Welcome to the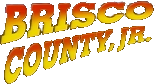 wiki,
the database for everything Brisco.
We're currently editing 166 articles since 14 February 2015, and you can help!

To get started editing, please visit here.
Featured article
"Pilot" is the first episode of The Adventures of Brisco County, Jr.
Brisco County, Jr. is hired by the attorney of a group of robber barons to track down and apprehend the infamous John Bly and his gang, a job that was previously entrusted to his late father, Brisco County, Sr.
(
Read more...
)
Ad blocker interference detected!
Wikia is a free-to-use site that makes money from advertising. We have a modified experience for viewers using ad blockers

Wikia is not accessible if you've made further modifications. Remove the custom ad blocker rule(s) and the page will load as expected.